Hoko ('connect' in Tongan) is the current buzzword on the streets of Nukua'lofa. If there is any year the Kingdom of Tonga would be justifiably excited about internet, 2013 is it. As one of the most remote island nations on the planet, the impending arrival of high-speed, fiber-optic broadband internet – made possible through the World Bank-supported  Pacific Regional Connectivity Project, an 830km-long cable being connected between Fiji and Tonga – means that everyone is talking of hoko.
World Bank's communications person Tom Perry spoke to a number of people about the experience with internet in Tonga and how broadband internet would affect their lives. On of the first things the Tongan Prime Minister is planning to do is to hold a public skype session with Tongan soldiers currently serving in Afghanistan.
Dr Paula Vivili, Acting Superintendent, Vaiola Hospital
As the only eye surgeon in this nation of 100,000 people, Dr Vivili's time is in high demand; something that isn't helped by the hospital's unreliable internet connection.
"It's a challenge, trying to work with our current internet," says Dr Vivili. "I regularly send images, patient records or requests for a second opinion to specialists in other countries. Often when I send the email, I come back in a few hours later or the next day, and it will still be in my outbox."
"When we rely on a second opinion from a specialist overseas, it is frustrating, and ultimately, it puts the patient's opportunity for quick treatment at risk."
Dr Vivili says that for he and the thousands that work in Tonga's health system, the arrival of broadband represents a big step forward.
"Clinics in remote areas – where a ship will visit with supplies maybe once every six weeks – will be able to access medical records, and work with us here in the capital, or with specialists overseas to provide proper treatment for patients."
"Video conferencing has big potential for us, particularly as a remote island nation. It will mean international specialists can join us and provide immediate advice and input during an operation, and will reduce some of the pressure on our team here."
Loluhama Mausia, Teacher, Tailulu College
Hama says that as a teacher, she has learned to adapt to the unreliability of internet services in Tonga.
"You always need a Plan B here," she says. "Too often, our classes can't happen as we plan them. We want to make sure our students have the best chance, and it can be frustrating."
When I asked Hama what the arrival of broadband in Tonga means for her personally, she immediately reflects on her family, a common response in this country where an estimated 300,000 Tongans are currently living overseas.
"Most of us in Tonga have family living overseas. The internet is our connection, our way to keep in touch with each other and keep what is most important to us."
She pauses for a second to consider her words.
"We may be isolated," adds Hama. "But now we won't be disconnected."
Minolu Nishi Jr., farmer
Minolu Nishi Jr. is the owner of Nishi Trading, a family-run farming and export operation sending Tongan-grown produce, such as watermelons, squash and butternut pumpkins, to kitchens in Australia, New Zealand, Japan and Korea.
He says that the current internet services mean that Tongan businesses, which already face major challenges due to the country's remoteness, have a tough time trying to do business overseas.
"The joke in Tonga is that it's cheaper to buy a car than to have the internet for three months," he says.
Minolu says that the potential for what reliable, high-speed internet can provide Tongan businesses is huge.
"Our accounts, records and sales will all be online, and we'll be able to have face-to-face conversations with international buyers. I can see our growers using smartphones to manage any pests in the field – photographing them, identifying them and then learning how to deal with them, quickly."
"It means our farmers no longer have to go overseas to further their knowledge," he says.
Heimoana Ali, tapa producer
Heimoana Ali is the operator of Living Mercy, a women's collective that produce tapa, a traditional fabric woven and worn by Tongans at home and abroad. Made by hand, the production of tapa is considered a fine art in Tonga and other parts of the Pacific, and Heimona Ali has seen the potential for its export overseas.
Working with nearly 50 Tongan women, Heimona sees huge potential in the internet in helping get the group's work out to the world, yet feels hamstrung by the country's current internet service.
She says that in a lot of cases, she is forced to make expensive international overseas phone calls to confirm orders.
"Calling on the phone is very expensive, but we really have no choice. If any of us try to use the internet at night, it is so slow, it is very hard to use it at all."
"I hope this new service brings change, and makes things easier," she says. "We are making some special tapa here, and we'd like the world to see it."
With just a few weeks until the arrival of broadband in Tonga, many locals, just like Dr Vivili, Hama Mausia, Minolu Nishi and Heimoana Ali, are all looking forward, creating their own ideas of how they will make the most of Tonga's new connectivity. For many thousands more, it's the fact that these ideas are just the tip of the iceberg that is the most exciting.
An Information-communication Revolution in the Pacific
Information and communication technology outreach is happening fast in one of the most dispersed regions on Earth, the Pacific. It's a region comprised of some 9,000 islands spread across a vast ocean, where governments and businesses deal with some of the highest transaction costs in the world.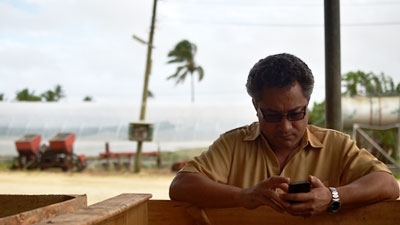 Two million more people in the Pacific gained access to mobile phones
Over the last six years, more than two million people in Papua New Guinea and the Pacific Islands gained access to mobile phones. In countries like Vanuatu, eight in ten people now have a mobile phone connection (a 70 percent increase from 2007), and call prices have dropped.
Villagers who for years had made treacherous three-hour long boat trips to make a simple phone call to the capital, are now calling and texting family in other provinces and other countries. Access to mobile phones has reduced isolation, made it easier and cheaper to do business, and increased government options for service delivery.
The benefits have been felt right across Papua New Guinea, Samoa, Solomon Islands, Tonga, and Vanuatu, and are now stretching into the North Pacific. This 'telecommunications revolution' is also creating jobs where they are needed most: directly creating livelihoods for at least 30,000 people in Papua New Guinea alone.
High-speed broadband next step in the Pacific
Mobile phones are just the beginning. High-speed broadband is the next step to help overcome these challenges. Most Pacific Island countries still depend on costly satellite links with limited bandwidth, and internet connectivity costs are among the highest in the world.
A 256kbps broadband internet connection costs US$650 per month in Palau. In Kiribati, one of the poorest countries in the region, it would cost $430. Such high rates are common across the Pacific. As a result, less than one percent of the region's population typically has access to a reliable internet connection. Outside the main towns, people are still more likely to communicate with letters transported by ship than an email.
Where the internet exists it's often painfully slow. Kelela Pasina runs an internet café just outside of Nuku'alofa, the capital of Tonga, but there are major bandwidth constraints. "The internet here is so bad. Sometimes it comes on and off and on and off again. It's very bad for business and for my family."
Like many Tongans, he has family overseas but he says, he can only contact them on Sundays when less people are using the internet. It will take him half an hour to upload a single photo of his new baby to send to his sister in Hawaii.
Yet the coming months will see the arrival of broadband. Through a World Bank and Asian Development Bank funded project, an 830 km fiber-optic cable will be installed underwater to connect Tonga, a country made up of 176 islands spread across 700,000 square kilometres of ocean, to the Southern Cross Landing Station in Fiji, and onwards to global broadband networks. As more countries connect, benefits are expected to resound in the region.
Faster, cheaper, and more reliable connections can result in the development of:
New opportunities to share information: Governments, teachers, doctors, farmers, and fishermen use technology to communicate, share information, buy goods, find better prices, make payments, improve the reach of their services and increase their bargaining power.
E-services: Developed by Pacific governments to provide geographical information systems, new modes of distance learning, and online business applications.
Trans-national cooperation: On issues such as monitoring of natural resources like fisheries, disaster mitigation, and collaboration on service delivery like health and education, including in remote areas.
There is huge potential to harness the power of technology to create economic growth and opportunities and to reduce poverty. The World Bank Group, together with partners likeAusAID, NZAID, and ADB, is working with the countries of the Pacific to realize this potential.
Currently the World Bank has projects to better ICT access in seven Pacific Island countries and Timor-Leste, including in far-flung rural areas and Outer Islands, with projects on the way in Palau and Federated States of Micronesia.