For the second year running, Australia's leading food rescue organisation, OzHarvest partnered with the United Nations Environment Programme (UNEP) to tackle the issues of food and nutrition security and sustainable food systems at the upcoming  Think.Eat.Save events across Australia. 
UNIC Canberra joined OzHarvest at the Sydney event on the 21st July 2014.
In collaboration with the United Nations Environment Program (UNEP) and the UN's Food Agriculture Organisation (FAO) Global Initiative on Food Loss and Waste Reduction (SAVE FOOD), OzHarvest is leading the Think.Eat.Save campaign in Australia to raise awareness on global food loss and waste reduction. The events also contributes to the FAO-UNEP Sustainable Food Systems Programme.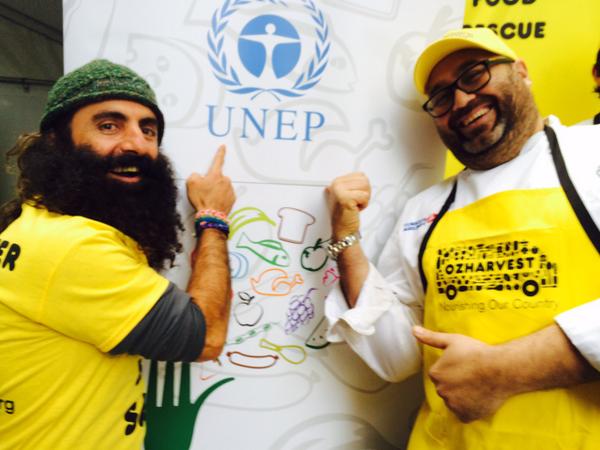 Some of the nation's top chefs, politicians and celebrities unite at events held across Sydney, Adelaide, Brisbane, Melbourne and Newcastle to take a stance against food waste, and serve thousands of members of the public a free, delicious and hearty hot meal made from surplus produce that would have otherwise ended up as landfill.
Food waste is currently costing Australians up to $10 billion each year, while two million people still rely on food relief.
Founder and CEO of OzHarvest, Ronni Kahn said the aim of Think.Eat.Save 2014 is to bring attention to the disturbing amount of food wasted in Australia and around the world, where roughly one third of food produced for human consumption (approx. 1.3 billion tonnes) gets wasted and lost along the way.
"Our modern day challenge is to create a sustainable food culture that can be shared by all, where we waste less at all levels of food production, distribution and consumption," Kahn said.
"Each and every one of us can make a pledge to reduce food waste by participating in localThink.Eat.Save events, and also commit to reducing food waste at home. Small actions can affect change and united, our actions will make a huge positive impact on our planet."
Naysan Sahba, Director of Communications of UNEP said, "In the next few years, food consumption is expected to increase by around 30 per cent due to population growth, while the effects of climate change are expected to reduce agricultural yields by up to 5 per cent in some areas. We do know, however, that cutting the rate of food loss and waste in half by 2050 would close 20 per cent of this food gap.
"To bring about the vision of a truly sustainable world, we need to transform the way we produce and consume our food, which effectively means the way we consume our natural resources. This is what we at UNEP and our partners like OzHarvest are striving to influence with the Think.Eat.Save campaign and we thank OzHarvest for continuing to champion the campaign in Australia and beyond."
Local food facts
Australians throw out $8-10 billion of food every year. As a nation we waste four million tonnes per annum of food which ends up in landfill.
Australians throw out one out of every five shopping bags, which equates to every Australian household throwing out $1,036 worth of groceries each year.
Australia produces enough food to feed approx. 60 million people, yet two million people still rely on food relief every year.
Food relief agencies are not able to meet demand. Nearly 90% of agencies reported not having enough food to meet total demand. 6 in 10 agencies require at least 25% more food with almost 3 in 10 agencies requiring double the food.
Global food loss and waste facts
Roughly one third of the food produced in the world for human consumption every year — approximately 1.3 billion tonnes — gets lost or wasted.
Every year, consumers in rich countries waste almost as much food (222 million tonnes) as the entire net food production of sub-Saharan Africa (230 million tonnes).
Food loss and waste also amount to a major squandering of resources, including water, land, energy, labour and capital and needlessly produce greenhouse gas emissions, contributing to global warming and climate change.
While the planet is struggling to provide us with enough resources to sustain its 7 billion people (growing to 9 billion by 2050), FAO estimates that a third of global food production is either wasted or lost. Food waste is an enormous drain on natural resources and a contributor to negative environmental impacts.
If food is wasted, it means that all the resources and inputs used in the production of all the food are also lost. For example, it takes about 1,000 litres of water to produce 1 litre of milk and about 16,000 litres goes into a cow's food to make a hamburger. The resulting greenhouse gas emissions from the cows themselves, and throughout the food supply chain, all end up in vain when we waste food.
Given this enormous imbalance in lifestyles and the resultant devastating effects on natural resources and the environment, this year's theme – Think.Eat.Save – Reduce Your Foodprint – encourages you to become more aware of the impacts of your food choices and empowers you to make informed decisions.